Having to complete an ultra marathon is already unrealistic to many people, let alone a 500KM in one of the toughest and harshest environments in the world.
Running with a 30KG sled under subzero temperatures for continuously ten days is simply unmanageable, but this person, albeit adversity, did not give up.
This against-all-odds story is remarkable. It is indeed inspirational. If this incredible runner can overcome such a thing and accomplish that, we all should be able to tackle all kinds of challenges for today.
There's no other than extraordinary to describe what Jeff Lau has achieved in the world's coldest race – Lapland Arctic Ultra Challenge 2022. The ultra-marathon athlete traveled all the way to Sweden to run the world's toughest race, in support of the Malaysian AIDS Foundation (MAF) to raise awareness for HIV.
You recently finished the Lapland Arctic Ultra. How did it compare to some of your other snow ultras?
Yeap this is a lot tougher compared to other ultra races that I have taken part in before. This race requires a lot of experience and survival skills to survive in extreme weather conditions. Although I have completed the race, I'm still lacking in experience and knowledge so there's plenty of room for me to improve myself to be better next time.
What was the most unique experience you had during the Lapland Arctic Ultra?
The fact that I overslept in a sleeping bag on the trail and took the wrong way for 3 whole hours.
What kind of nutritional products did you carry with you and what did you eat during the run?
I took Hammer Nutrition gel, HN Fizzy, HN Perpetuum, and HN Recoverite for my nutritional needs. During the run, I was snacking on gummies, mixed nuts, 'bak kwa', and chocolates. At the checkpoints, I would heat up frozen dried food as my main course.
What was the most physically challenging part of the run? How did you overcome them?
The challenging part for me was when I had to cross frozen rivers. Aside from that, having to face the temperamental weather due to the ever-changing weather conditions where it gets very windy at night or turns super warm in the afternoon. Through the forest, we need to climb up and down with a 30kg sled. I have to keep changing my running gears to avoid sweating too much or getting too cold.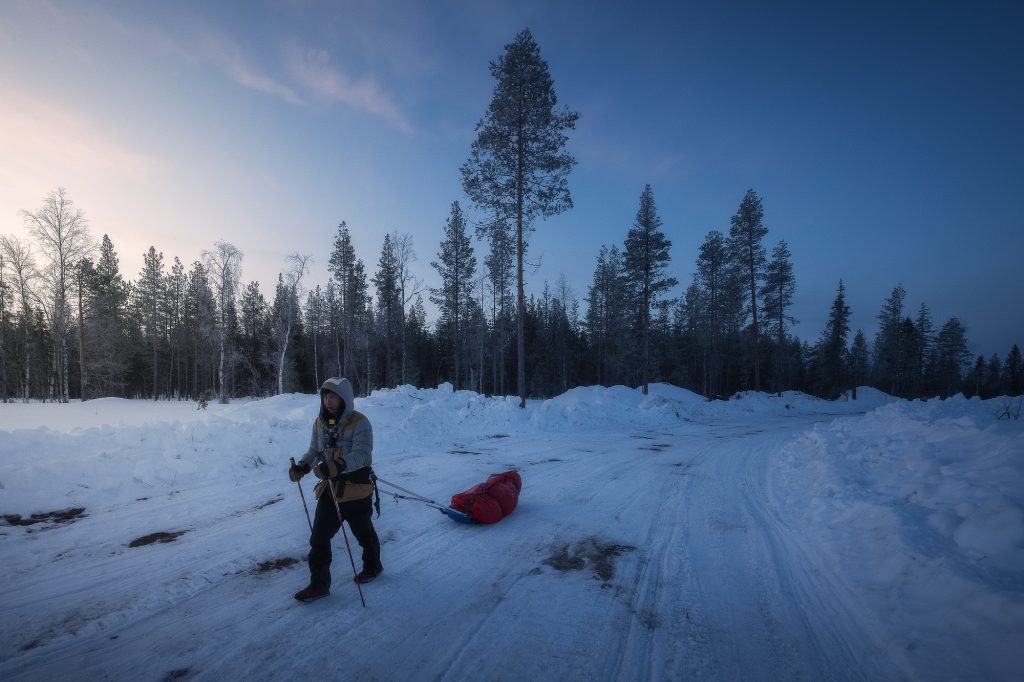 Running 500KM in 10 days, especially under harsh conditions sounds relentless. Was there a point during the run where you thought you would give up?
At every checkpoint where I reached, I wanted to give up because it is sort of scary to step out from the warm room into the extreme cold places, especially at night.
How did you manage your mind to keep up the momentum?
I had to remind myself to stay positive and try to enjoy the race.
What were the running gears that helped get you through the Lapland Arctic Ultra?
It is important to find the right running equipment and gears that are able to support me through this -20 Degree Celsius race. I was very fortunate to have Under Armour's support in my race gears equipment. I'm very thankful and grateful that the Under Armour Europe team was able to prepare the right racing cold gears for me to withstand the gruesome race.
The gears included UA Men's Storm Liner, UA CGI Shield Jacket, UA CGI Shield Hooded, UA Fly Fast ColdGear, UA CGI Down Blocked Jacket, UA Cold Weather Crew, UA Storm Beanie, UA Storm Fleece Glove, UA CGI Down Jacket, and the UA CGI Utility Cargo.