To celebrate the International Women's Day and empower women in sports, we have included 10 sports bra, ranging from high-impact, mid-impact to low impact options that you can use for all body types and different workouts.
Studies have shown that young women have developed greater self-confidence and increased body image through playing sports. By reviewing sports bra, it also means giving ladies of all shapes and sizes courage to wear your sports bras with pride. Sports bras should not make you feel uncomfortable and insecure.
Whether you're small-cupped or well-endowed, you deserve to wear a sports bra that strengthens, empowers, and motivates to work out. But having a well-fitted sports bra is important. Not only will it be worth it in terms of comfort and reduced bounce, but having a bra that fits right and makes you feel good is such a great confidence booster.
These sports bras will make you feel fully in control and confident as you kill it in your next workout session.
Remember, no one is judging you.
Yoga is about flexibility. This adidas Yoga Studio Luxe Light Support Sports Bra makes sure nothing distracts from that. Adisoft fabric feels soft and smooth like a second skin, which lets you flow without restriction, and intentional seaming emphasises and contours the body. Muted colours and soft lines match the feeling of calm that comes with practice. adidas AEROREADY – a moisture wicking fabric manages your body's moisture to keep you dry and in the zone. This Yoga Sports Bra is designed to move with your body from studio classes to at-home yoga.
This eye-catching Front Zip High Impact Sports Bra from Puma is your picking for high intensity training.. Featuring racer back construction for freedom of movement, it comes with a zipper at the front for easy on/off and has Puma's dryCELL technology to keep you dry and comfortable for the entirety of your training when the action heats up. If HIIT or Cross Fit is your go-to, this bra will feel secure with its breathable spacer padding for added coverage, whatever the workout of the day.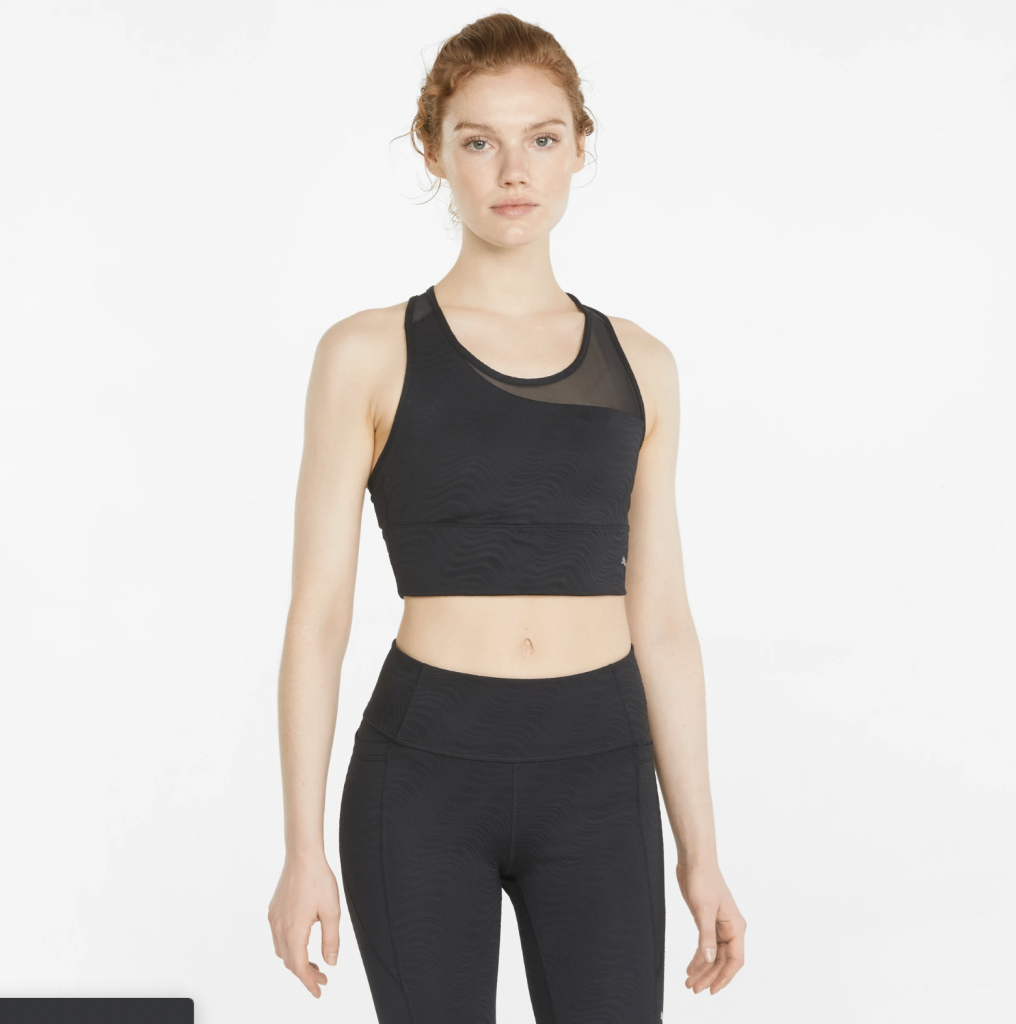 iPuma Mid Impact Flawless Women's Training Bra is a great option for most workouts, especially for those who like a little more coverage. Sleek and stylish, the Mid Impact Flawless Training Bra offers exceptional support for high-intensity training plus a comfortable fit. The ideal combo for when the action heats up: With dryCELL technology, it is flattering, functional and supremely fashionable.
The Puma Low Impact Strappy Training Bra is a great choice for low-impact activities. While it is designed for smaller-chested women, this bra is supportive where it needs to be and comfortable enough for your long-day training. With its lightweight straps for comfort and stability, this sleek and minimal bra is perfect for yoga and Pilates.
The Accelerate Bra is designed to increase comfort and improve breathability. This sports bra offers full coverage, as well as smooth, molded cups, and moisture-wicking performance mesh to see you through high-impact activities. Additionally, this bra's lower band provides a soft feel against the skin while a cross-back design with adjustable straps offers a tailored fit.
This ASICS Padded Bra is one of the best sports bras for everyday running. It is a medium support bra that helps reduce bouncing during your run. The bra also features a comfortable fabric that's soft and quick-drying. The garment's removable pads also allow you to customize its fit. No matter how many miles you hit, your boobs will remain comfortable and snug.
Functional for various yoga and fitness routines, the Reversible Seamless Bra is designed with a compressive fabric that's comfortable and moisture-wicking. Its reversible construction is made with a double-layer that allows you to customize your look while offering excellent range of motion. Minimal seams are complemented by a recycled polyester yarn material that provides a soft hand feel and excellent comfort. Additionally, this bra has removable pads that make it easy to switch up the look and feel.
Under Armour's UA Infinity High Sports Bra is definitely your go-to for high-support activities like running with its thick straps and cross back which add support to the encapsulation structure of the front. Molded, PU injected one-piece padding is designed for ultimate comfort and added coverage. It also has mesh panels for added breathability. HeatGear® fabric delivers next-to-skin feel, wicks sweat and dries really fast. The criss-cross straps are adjustable, so you can adjust them to sit however feels most supportive for you. The three-hook closure in the back functions as additional reinforcement.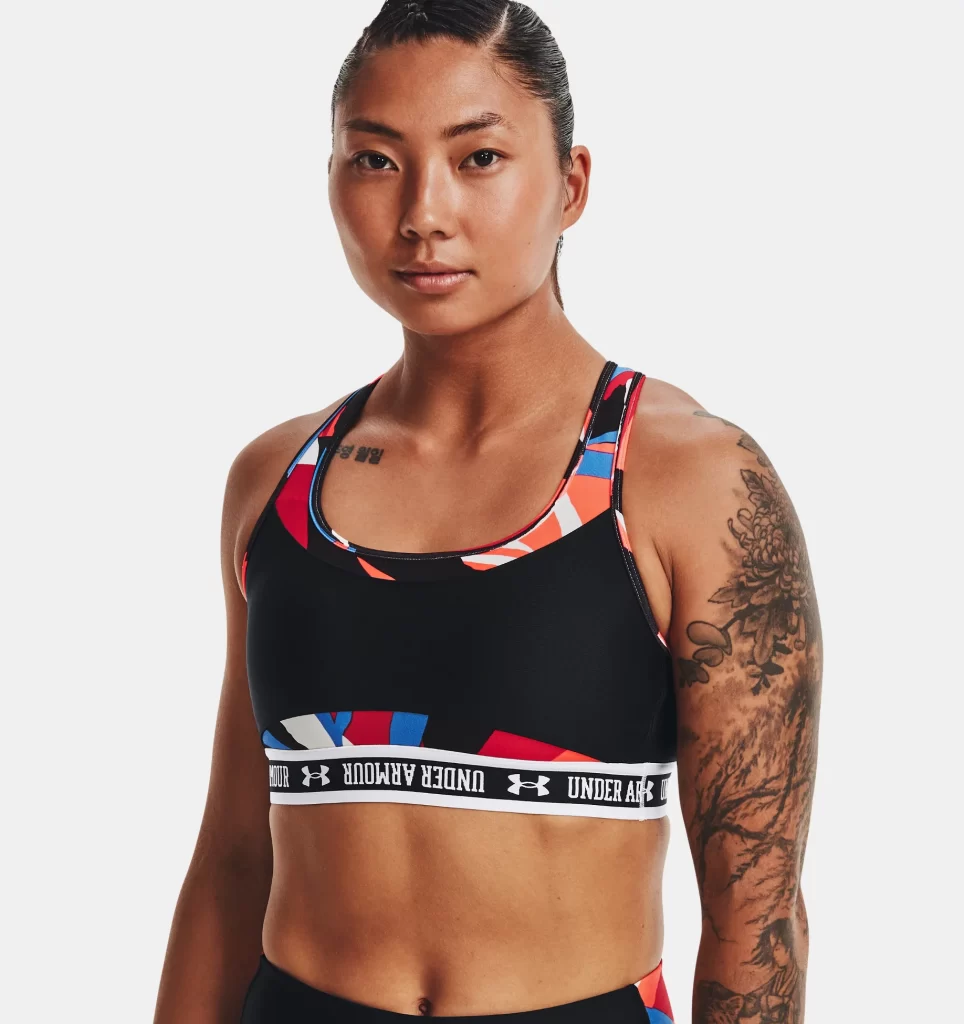 Sometimes, you just need a sports bra that is easy to put on and take off, no clasping or unclasping necessary. Armour® Mid Crossback Sports Bra is a great option for that. It delivers strategic support, tailored for medium-support activities like cycling, weight training, and boxing. Soft, quick-drying cups provide extra structure and coverage with perforations for added breathability. Super-smooth, double-layer HeatGear® fabric delivers next-to-skin feel. Crossover straps with updated keyhole detail make it easier on or off.
The Armour Mid Crossback Pocket Run Sports Bra is not your normal sports bra. This bra features an envelope pocket that fits smaller phone, and a higher neckline for enhanced coverage and better support. It delivers strategic support, tailored for medium-support activities like cycling, weight training, and boxing. Soft, quick-drying cups provide extra structure and coverage with perforations for added breathability. An updated open keyhole detail delivers a stylish look, while also offering functionality for easier on/off wear.